Pinball Museum!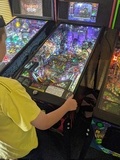 Since we went out to Halls Gap and everyone enjoyed the pinball machine, I came up with the idea of going to check out the pinball mueseum just up the highway in Nhill. Yesterday, we headed out to the bank to pull out $50AUD in $1 coins, and then today we left home at about 11am, heading west.
This was a very silly time to do so, as we'd not made any plans for lunch, and I wasn't aware of anything cheap (read: fast food) in Nhill. Wandering around a bit, and the best we could spot was a Vietnamese bakery… so we stopped and ate lunch there: pasties (Duncan had a sausage roll). It was pretty excellent, and not at all expensive.
After that, off to the pinball museum, which had just opened and was deserted. I had a bit of a chat to the operator, while Sabriena and Duncan got stuck in. Fearing they'd spend all the coins, I stopped yakking and had a go as well… I played Game of Thrones (Stern, 2015), AC/DC (Stern, 2012), The Simpsons (Data East, 1990), Fish Tales (Williams, 1992, which I wanted to play as I'd played it on virtual pinball and wanted to compare), TMNT (Stern, 2020), and Elvira (Stern, 2019). I enjoyed the latter the most, I think.
I am still pretty terrible at it, but we had a great time. I think the $50 lasted the three of us about an hour and a half, which is not at all bad considering… to be honest I'd expected it to go much quicker.