Gariwerd
It's been a while since I took any time off of work, so about a month ago I decided I would take the first week of Duncan's school holidays off and we'd go do "something" (TBD at that time). I didn't realize at the time that this coincided with Easter, but whatever.
Since I never take time off (I basically take Christmas Eve/Day off and that's about it), my boss OKed it basically instantly, and Sabriena set about figuring out what that "something" would be, and we decided to head up to Halls Gap and wander around Gariwerd. We booked a cabin for Easter Monday (most folks would be leaving by then we reasoned, and didn't have any issues finding one).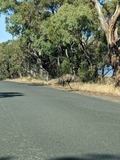 On the Monday, we headed up and had a bit of excitement on the way: an Emu was in the road and we had to slow to a crawl around it (Sabriena snapped the picture seen left, I was hoping there was video of it on the dashcam but it had rotated out by the time I checked).
When we arrived, we wandered around the local Zoo - Duncan's been there with his school a few years back, but we've never been. We even gave a $5 donation for a new Crocodile enclosure (I'd actually commented a few minutes prior that the enclosure for the saltwater croc they had looked a bit on the small side), which entitled Duncan to hold a snake (a juvenile Olive Python). I was expecting him to chicken out at the last minute but he actually went through with it, which impressed both of us.
After that, we went back into the town to find something for lunch, Duncan once again having nachos, and myself with zero memory opting for the chilli dogs. Sabriena had a "dressed" baked potato, all three of these at "Coolas Ice Creamery". I'm happy to report that despite our lapse in memory, everything had markedly improved: the hotdogs were significantly better, despite the "chilli" still being mere chilli sauce rather than any actual chilli. The nachos had salsa instead of spaghetti sauce, and the potatoes were awesome… so everything worked out. The sole complaint was the absolutely insane line, but then again it is easter weekend so that much was our fault.
After this we went up to play mini golf just out of town, which was excellent. The course is extremely challenging from the first hole, and some parts of it were a little unmaintained (parts of it not level so your ball wouldn't stop where you would expect it to, holes in the fairway, etc)… we actually gave up counting scores after about three holes (where everyone was well into the 20~30 stroke territory).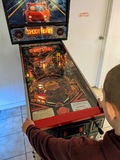 Back to the cabin for the night after getting some more grub (we decided to leave the ice cream for tomorrow), but in the mean time on the drive in we noticed that the park has a (small) arcade! So the three of us walked up front to check it out. The games looked in pretty poor repair - half of Daytona (full twin sit-down cabinets) wasn't working, and they had an actual arcade version of Need for Speed Underground that was powered up, but the display wasn't connecting for some reason and kept showing "no signal".
Duncan had a crack at whatever Big Buck Hunter they have, though he did say the gun didn't seem like it was very aligned. Sabriena played Ms Pac Man on the 60-in-one generic upright cabinet, and the rest of us spent time playing the Getaway pinball… which was about my third time ever playing a real pinball machine, and both Sabriena and Duncan's first. FYI Sabriena absolutely kicked my ass, racking up 48M to my piddly 8M or so. We resolved that we're going to have to head out to the pinball museum in Nhill at some point and have a look… I just hope this isn't the start of another expensive hobby!
Tomorrow we're going to head up one of the mountain tracks, once again TBD.