More Sprinter Fixes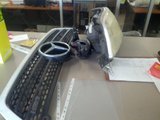 Stopped in Adelaide on my way home to pick up some parts for the van - I needed to stop being cheap and just get another indicator stalk, and I decided to grab the headlight and grille finally as well. It didn't take too long to get all the parts together from the local wreckers (who are quite good, as long as you don't talk to the owner - the price seems to go up every time he speaks) and I was on my way home again. I made it home last night in time to have dinner and watch a movie with Duncan.
Today, after fooling around in Ballarat for a few hours, I set about putting some of these parts on. It didn't take very long at all to change out the indicator stalk - I just have to plug in the PC to the van to reset the SRS warning light, because I hooked the battery back up with the airbag off in order to test the lights before I put everything back together.
The headlight took longer though - the one they gave me is the wrong one! It's for a single-bulb headlight system, I'm not sure what year models they were. Having to keep different bulbs for the left and right headlights didn't sound like any fun at all, so I decided to have a go at making one out of two. That requires one to remove the lens from the front of the headlight assembly, and words simply cannot express how difficult that is. It took over an hour to do each of them, and the one that was all smashed up was markedly more easy because I didn't care about what I did to the plastic outer housing.
With a lot of help from my wife, I finally got both of them apart, put all the parts I wanted back together and started to put it in. It's dark now though, so it can wait until tomorrow.