Duncan's New Whip #2
Earlier in the week I took the car in to have it serviced, have some noises checked out, and have them try to track down the oil leak. They wanted it during business hours on Monday, which is no good… I work then. So on Sunday, Duncan and I took it out with our bikes in the back and rode back. Unfortunately, the Mitygoose we got him is entirely too small. Like last time, we were hoping to hold out until Christmas, but it's just not going to happen… his knees are hitting the bars!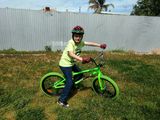 Since he did extremely well on his NAPLAN testing - which even though I utterly abhor standardized testing, I'm still very proud of - we decided to buy him a new shiny again. Same as last time, bikes are excruciatingly expensive, but the last one lasted him four years and I wouldn't be surprised if we get slightly longer out of the new one, so the cost amortizes fairly well.
He ended up choosing a Forgotten Misfit - Sabriena and I both liked the black Subrosa that was just slightly more expensive, but it wasn't our choice to make. I don't know anything about the brand Forgotten, but it seems like a fairly well-made low-end BMX - high-tensile frame, no integrated headset, all that. Quite a bit heavier than my Colony, but it's also half the price!
After some teething problems (going from 16" to 20" is a huge jump in geometry), and the fact that Duncan requested "American-style" brakes (the rear brake on the right-hand grip), yet the only grip they had in stock was a short-throw lever that he just doesn't have the reach or grip strength to pull. I ended up trading levers with him (mine having an old Tech-77 lever that's a much longer throw) and he was a lot better off.
Now he's really into it, and digging the freewheel. We've been on three rides so far this weekend, and it's the start of school holidays so I'm expecting more.