Duncan's Desktop: Ordered
Today, I'd successfully smashed our credit card back below the level of debt I was comfortable carrying at this point in my life. I'd like it to be zeroed again, but that's just not going to happen quite yet. Duncan's desktop has died, and the rate it's going, my old laptop that he's using won't make it through summer, so we decided to pull the trigger and build a desktop that he and Sabriena can share.
With help from the kind folks at the IRC channel for Reddit's "Build a PC" community, I started out with something pretty close to what I wanted, though I had to make a few changes to be able to purchase everything from my preferred vendor (notably switching a CX450M for a CX450). We also switched the case out for something slightly spendier because Duncan really liked this particular one.
I think the end result isn't bad for a machine just under $1000AUD, shipped:
Generated by PCPartPicker 2017-10-25 19:49 AEDT+1100
It's a budget gaming machine for sure, with lots of concessions made… but it's still something I would have been utterly rapt in at his age, so I hope he appreciates it. I'll be able to take my laptop back, put the Linux SSD back in it and give it a quiet retirement.
I clicked the order button shortly after 5pm, so there's a chance the parts might make it here before the weekend, but even if they don't next week is a fine week to build a PC.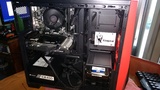 Friday: The parts arrived, and while I had a break from work I tore open the package to verify everything was there, then waited impatiently for Duncan to get home from school (he gets home basically as I finish up, when they walk). We surprised him with the parts and then set about putting them together, the process which took us just slightly past dinner time:
First, we bread-boarded the machine by assembling it on the box (a process that still makes me uneasy after all these years), and third time wasn't a charm I guess… it looks like the 1050Ti is DOA. Boo! We arrived at this conclusion by using Duncan's old HD5770 (which will POST, and run for a while, but if you game on it it freezes) and the machine booted to the BIOS. I double-checked that there definitely wasn't a power cable on this one (there usually isn't for <1060), then tried it in my desktop, while I put my 1060 in Duncan's machine to get it started.
With the machine working on the bench, we took it apart and started loading it into the case, which isn't as cancerous in person as it is in the pictures, and Duncan is really happy with it. The only pieces of metal I'd describe as "flimsy" are the covers for the expansion slots, but when they're held in place it's not like you'd bend one. The rest is pretty well built, and the cable management is adequate considering we went with a non-modular PSU, so there's going to be extras somewhere anyway.