Walking around Budapest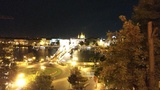 Having regretfully missed the escape room, but feeling much better having slept a bit, I decided to throw myself into the experience and take every opportunity presented to me. That consisted of two night-time walking tours of the city, led by two different folks from our office.
The first night, we went up to Hero Square, then back to Buda castle, before having dinner in a restaurant right near our hotel (Anker Klub). I tried taking a few photos, not sure how they turned out… the views were phenomenal!
The second night, we walked through St Stephen's Basilica, then over to Liberty Park, saw a rather contentious monument on the holocaust, then wandered around the outside of Parliament house before taking the metro back to the office to pick up a car. A short car trip up to the top of the hill, to see what is basically Hungary's statue of liberty, then back to the same place for dinner.
Speaking of dinner, Hungarian food really agrees with me. I had chicken paprikash ("Csirkepaprikás") approximately three or four times earlier in the week, with my favourite being a boneless variety at Anker Klub on Thursday. I had potato pasta ("Krumplis tészta") at the same place on Wednesday, and some pork and mashed potatoes thing the name of which escapes me (I was pretty good about photographing the menus of everything, but the prior-mentioned meal was had at a small buffet without a menu, I picked from site and had Andras order for me). For lunch on Thursday I had a Hungarian Rattatouille with wild rice ("Lecsós tarja gombás vadrízzsel") from a street market which was excellent. Finally, on Friday night's dinner at Bestia I had some fancy variety of a Chicken Schitzel ("Rántott csirkemell") with balsamic sauce and mashed potatoes that was utterly heavenly.
I shudder to think of the weight I put back on between the food and alcohol this week - next Tuesday's weigh-in will probably be a kick in the guts.
Update: The weigh-in went okay - I lost about a hundred grams, which is not bad at all. The photos on the other hand didn't turn out great at all, almost all my shots were taken in poor light - not something I excel at at the best of times - and I didn't bring a tripod or anything. I think the mobile phone shots turned out better in most cases.