Duncan's mouse is here.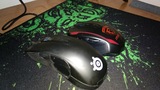 Duncan's been hinting for a while that he wants a new mouse. He likes Sabriena's Logitech, because of the sharp angles, glowy bits, and more than three buttons. His favourite color (at the moment) is red, so when I was pointed to a $10 MSI G Series by a random redditor, I figured "stuff it" and ordered two. The "MSRP" on these is supposed to be $50, they're $10 each shipped, and Duncan can have a second one for when he uses my laptop.
They arrived today, and I'm pretty underwhelmed but I think Duncan will like it. It's my first time ordering from Scorptec, and it went pretty smooth… I'd use them again, I think. They arrived well packed, secure, and were shipped pretty fast. Unless they get a bulk deal on postage from AusPost, I reckon they spent about $13 to ship them, so I wasn't expecting much for what's essentially a $3.50 mouse.
Upon inspection and searching around, it looks like they're usually bundled with MSI laptops/desktops, these must have just been excess stock from Scorptec including something better. The category was "giveaway stock", after all. After about an hour of searching, I can't find configuration software for it anywhere - it's supposed to support 6400DPI, but with no way to configure that it's at the 800 or whatever most mice default to. I haven't tried contacting MSI support yet, not sure whether I care enough… Duncan doesn't deviate much from standard mouse settings at the moment.
It's rather small, which is good for Duncan, but if I'd bought it for myself I'd be pretty upset, as I've got pretty large hands and a partial palm grip. My SteelSeries Rival (300?) dwarfs it, so if you've got large hands or want to use a palm grip, you'd probably want something larger.
It seems like it has a common enough, though generic, sensor, judging by the USB IDs, which does what it says on the tin. It tracks smooth enough on our Goliathus pads, and all the buttons bar the DPI switcher work out of the box on Windows 10.
It comes with a nice feeling, but stiffer than I'd like, braided cable - it might loosen up when it's no longer brand new. It's not as heavy as the charging cable that comes with Sabriena's Logitech wireless gaming mouse, but it's stiffer than your average wired mouse cable. Then again I'm comparing a freebie mouse with a $100AUD mouse.
On the whole I'm not unhappy with what we bought, I'm just glad I didn't buy it for me.